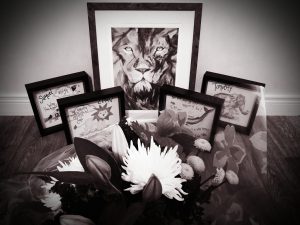 This morning, our local church expressed their thanks for our ministry amongst them over the last five years. It's a bit of a weird transition – I've been on compassionate leave since Christmas, and the lovely Ruth Craig has been the minister since July, but we still live in Ballynahinch and consider the Methodist Church our church family. After a thoughtful and generous presentation to us, I shared a few words of thanks, an update on Timothy, and encouragement for the future with those gathered. Here are the notes:
____________________
Thank you for your support of our family in recent months – phone calls, notes and cards, food, visits, prayer, and financially supporting us. Thanks to Ruth for her flexibility during this coming year, that allowed us to stay in the manse while Timothy continues to recover.
Timothy is here today, in good form, ready to go back to school tomorrow, just four months after his bone marrow transplant. It's still early days yet, so please keep on praying for protection for him. He still needs to be careful of catching infections over the next year – a raised temperature in June led to a fortnight in hospital. But we are hopeful and trusting God for complete healing. God has been good to us, we have known his presence in the difficult times.
On Remembrance Sunday in November I led worship here and then at the War Memorial. Chatting with the Presbyterian minister who was also present, I shared that we were due to receive our fourth child near the end of the month – a big change to family dynamics and a return to having a baby in the house after a five year gap. One week later, the baby was already five days old, and we had a child with cancer. It wasn't the way we had anticipated ending our ministry here, but it quickly became very obvious that I couldn't continue in the role as your minister beyond Christmas.
While our time was cut short, I still count it a privilege to have been your minister. We have walked together through a number of traumatic illnesses and deaths, but also some great moments of happiness through wedding days and new lives. It was a joy to bring several of you into membership of the church and subsequent leadership roles. Together we encountered Serendipity and Narnia, Inspire and Messy Church, prayer rooms, communion and candlelit carols. On your behalf I engaged with schools, hospitals, police and social services, other churches and our Methodist Church in Ireland family. We encouraged the work of The Edge, The Hub, food bank and Christians Against Poverty. I drove 25,000 miles, prepared over 200 services of worship and chaired countless committee meetings as together we cared for one another, worshipped God and reached out to others in God's name.
Had we been here in June, I would have preached a series of sermons on 2 Corinthians 13:11 as my final encouragement to you… Instead you get a couple of minutes…
St Paul writes, "Dear brothers and sisters, I close my letter [ministry] with these last words: Be joyful. Grow to maturity. Encourage each other. Live in harmony and peace. Then the God of love and peace will be with you."
Do you want God to be with you? Then…
# Be joyful – choose joy – 'restore onto me the joy of your salvation' – joy starts with being a thankful person.
# Grow to maturity – be a lifelong disciple, one who can reach and make other disciples. You know you're maturing if you are producing the fruit of the Spirit. Please join a fellowship band to ensure you keep on growing.
# Encourage each other – talk TO one another, not about one another. This town needs the Church to model unity and healing relationships. Build each other up in the gifts that each of you have.
In particular, love your minister – I have prayed with Ruth, that she might receive a double portion of whatever good things God could do through me.
Finally, remember these words from Ephesians 3:
In Christ and through faith in him we may approach God with freedom and confidence.
For this reason I kneel before the Father, I pray that out of his glorious riches he may strengthen you with power through his Spirit in your inner being, so that Christ may dwell in your hearts through faith.
And I pray that you, being rooted and established in love, may have power, together with all the Lord's holy people, to grasp how wide and long and high and deep is the love of Christ, and to know this love that surpasses knowledge – that you may be filled to the measure of all the fullness of God.
Now to him who is able to do immeasurably more than all we ask or imagine, according to his power that is at work within us, to him be glory in the church and in Christ Jesus throughout all generations, for ever and ever! Amen.